Geberit in-wall systems for wall-hung toilets The standard for flush technology
Geberit toilet systems: simple, reliable, beautiful
Geberit in-wall flush toilet systems for wall-hung toilets are the classics of modern bathroom design, installed over a million times around the world for more than 50 years. Geberit reliability is legendary. Also known as a concealed cistern, each in-wall flush toilet tank is leak-tested before shipment. Standard flush volume is 1.6 gallons (6 liters) or 1.28 gallons (4.8 liters) for solids and 0.8 gallons (3 liters) for liquids, saving thousands of gallons of water per year compared to a standard toilet. You can install with confidence, because Geberit guarantees spare parts availability for 50 years on all replaceable parts of the concealed tank and flush actuator plate (excluding specific functions of electronic products, e.g., Hygiene Flush).
Geberit in-wall flush toilet systems offer everything for a gorgeous bathroom that makes best use of the space and consumes less water. Whether you choose a concealed toilet tank system for 2x4 or 2x6 wall construction, Geberit systems give you decades of trouble-free operation. The result is a bathroom you'll want to show off to everyone who visits!
Build a complete system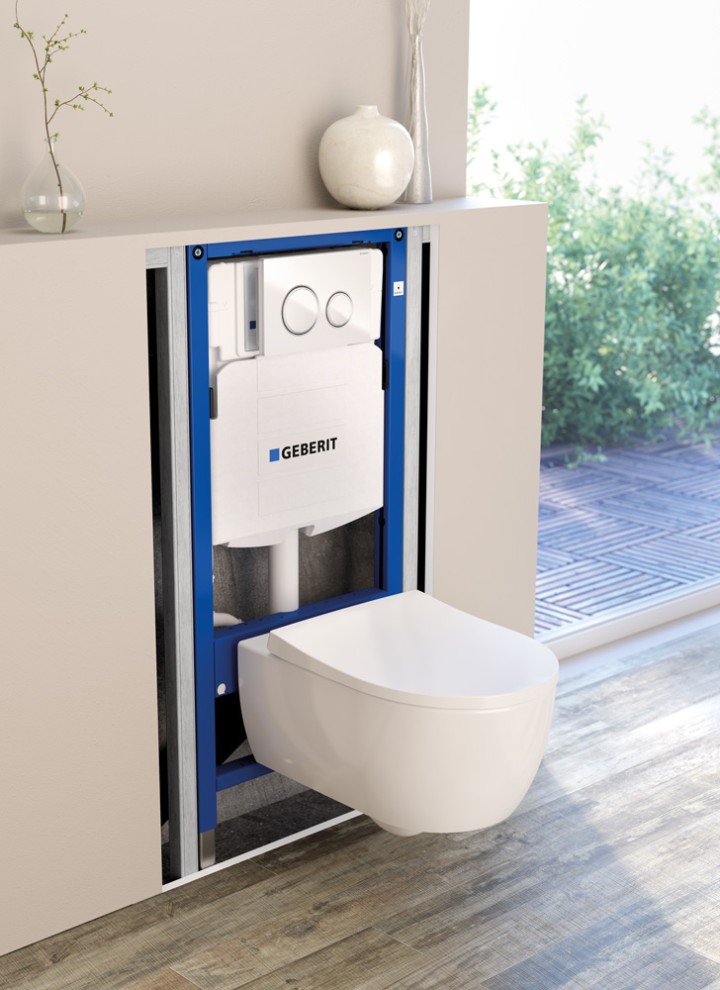 A touch of style
Geberit flush plates, available in many attractive styles and finishes, are the only visible element of the in-wall toilet tank and carrier system (sometimes called a concealed cistern). What's more, they offer tool-free access to all the working parts of the system, including the fill and flush valves, should simple maintenance ever be necessary.
You not only have a wide selection of Geberit flush plates and buttons, but also reliable Geberit in-wall systems for varying construction situations. Matching flush plates are available for both Sigma and Omega Series in-wall systems.