Geberit innovations
New for 2023! Our latest products
Toilet and urinal flush plates now programmable from your smartphone. Plus, our new Sanitary Flush unit helps keep your building's water safe.
New products
Sleek New Look for a Popular Favorite Sigma70 Flush Plates
The Sigma70 flush actuator plate seems to float just above the wall, thanks to a sleek, frameless design and gently curved buttons. Now available in a wider range of finishes than ever before, Sigma70 offers minimalist design and intuitive operation.
More Colors? Yes, Please! Sigma50 and Type 10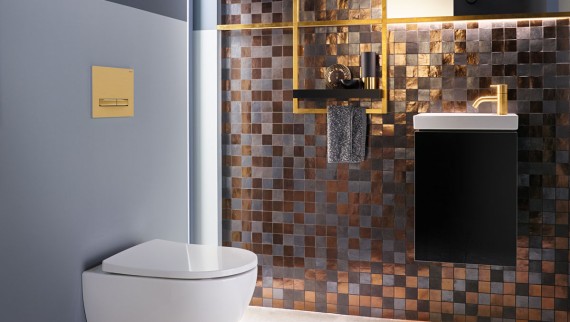 It's no secret that Geberit offers the widest range of flush plate colors and finishes possible. That's why designers and homeowners insist on our bathroom systems in new construction and bathroom remodels.
Now we're pleased to offer new color options for Sigma50 flush plates. If you love the "precious metals" finishes but need a flush plate without contrasting buttons, take a look at our one-color Sigma50 flush plates in brushed red gold, black chrome, and brass finishes.
We've also expanded our line of Type 10 remote flush buttons to include a matte and gloss black finish with subtle contrasting accents.
When you're designing a bathroom, Geberit helps you with even the smallest details.
Urinal actuators with Bluetooth® control
Our touch-free urinal flush plates are easier to use than ever! Download our Geberit Control app to program, monitor, and maintain our Type 10 and Type 50 plates from the palm of your hand.
Sanitary Flush Module
Add our new module to your Geberit 2x6 in-wall system, and keep the water in your plumbing system moving for better hygiene.