Geberit Bath Waste and Overflows The basics of delightful bathing
Pleasant warmth relaxes the limbs, while beguiling fragrances pamper the senses. Enjoying a bath in your own bathroom provides a moment of peace, relaxation, and regeneration – one of the best ways to escape our everyday lives. Treat yourself to a little spa feeling in warm water.
Safe, quick, hassle-free installation
Geberit Bath Waste and Overflows (BWOs) are equipped with a flexible bellows seal at the overflow. This means simple, safe, and hassle-free installation in almost any construction situation. All-round seals on both sides of the drain and the overflow protect bathtubs of any material from damage caused by corrosion.
Quick drainage, protects against clogging
Because they incorporate the well-known Geberit know-how, our BWOs provide optimized flow, thus ensuring a consistently high discharge rate and very good self-cleaning effect. For your clients, this means less time spent cleaning the drain and more time spent enjoying a beautiful bathroom!
Perfect fit for any bathroom
Geberit Bath Waste and Overflows (BWOs) are available in a wide range of colors and finishes -- including polished chrome, brushed or polished nickel, white plastic, or oil-rubbed bronze -- to suit your client's preferences. No matter the bathroom design, Geberit makes a BWO to match.
A Simple Push
Geberit takes care of the details with our elegant, patented PushControl line of BWOs. PushControl operates with a light touch and lies flat against the tub surface for maximum comfort.
Available with polished chrome or brushed nickel finishes
Complete kit includes everything needed for installation
PushControl BWO
PushControl BWO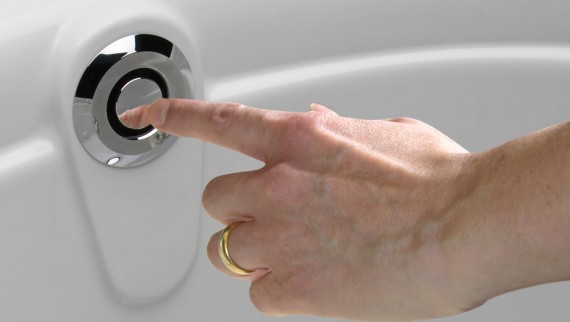 Polished chrome or brushed nickel finish over solid brass or molded plastic
Tubular plastic piping
Models available for tubs 17" - 24" or 25" - 29" deep
Award