TYPE 10 REMOTE FLUSH BUTTONS FOR SIGMA AND OMEGA SERIES IN-WALL TOILET SYSTEMS
CONVENIENCE AND ACCESSIBILITY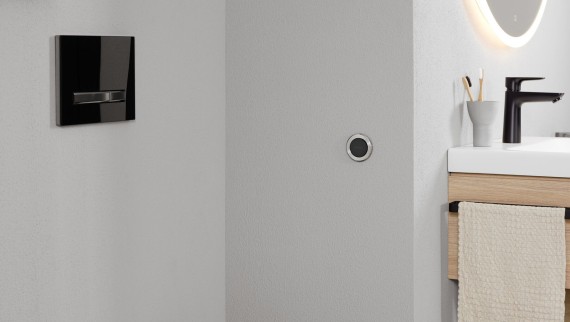 Geberit remote flush buttons let you position the flush actuator to meet personal preference or accessibility requirements. All Type 10 buttons feature dual-flush capability and are available with special options for mounting to drywall or bathroom furniture. When installing a remote flush button, cover plates are available to hide the standard flush opening and provide access to the fill and flush valves for any required maintenance.
TYPE 10 REMOTE BUTTON WITH PNEUMATIC MANUAL OPERATION
The design of our Type 10 pneumatic remote button is particularly striking, with a smooth surface combined with timeless finishes.
Three finishes
High-quality molded plastic
Water-saving dual-flush
Can be placed anywhere within a 5.5 ft. radius of the tank
Low actuation force less than 5 lbf
Includes mounting hardware and pneumatic hose
TYPE 10 IR BUTTON WITH TOUCHLESS OPERATION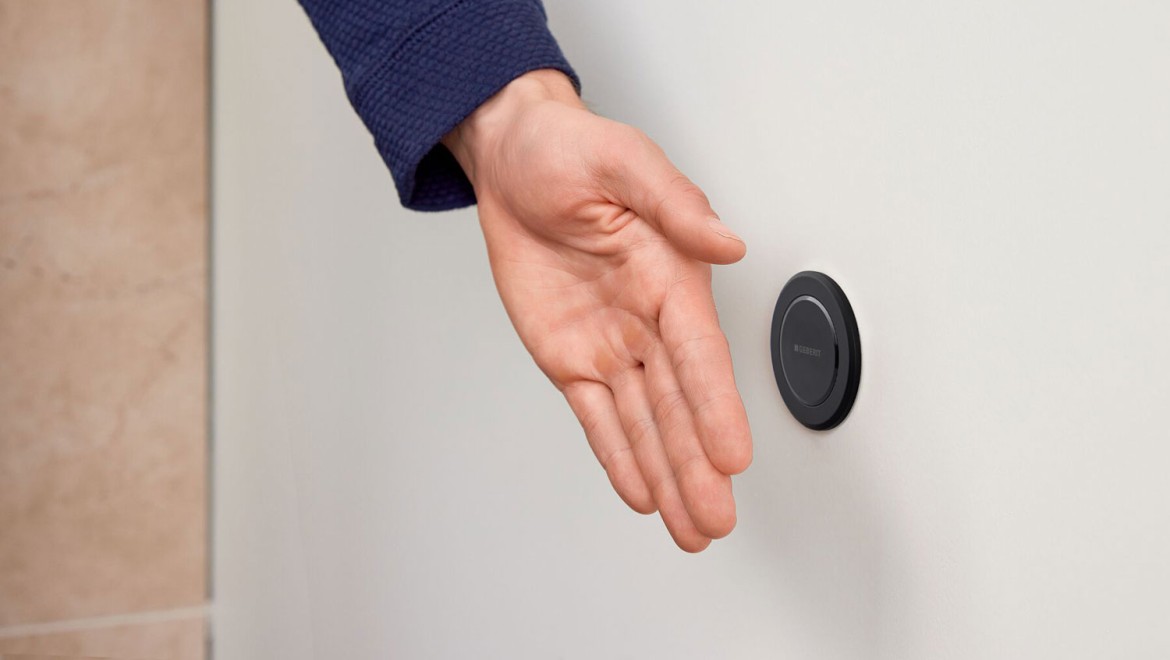 Geberit Type 10 IR hands-free, touchless activation helps prevent the spread of germs, perfect for private or semi-public bathrooms where users are looking for the ultimate in comfort, convenience, and hygiene. Type 10 IR touchless buttons are easy to use: wave a hand near the sensor. Continue to hold hand in front and benefit from built-in user initiated dual-flush operation. (See the User Manual  (, 10 MB) for details). Pair with decorative single- or dual-flush actuator plate as a design accent or manual override in the case of power loss.
Now Geberit Type 10 IR hands-free flush buttons are easier to use than ever! Hard-wired and battery-operated Type 10 buttons come with built-in Bluetooth® communication. Need to adjust the settings or monitor operation on your Type 10? Simply download the Geberit Connect app for any iOS or Android smartphone. Use the app to program your Type 10 button and retrieve usage data. Achieve total control from the palm of your hand!
Brushed stainless steel or matte black finish
Water-saving dual flush
Hands-free, touchless flushing
Hard-wired or battery operation
Available version with manual flush override for public and semi-public applications
NEW! Wireless remote programming, operation, and monitoring via Geberit Connect smartphone app (Bluetooth-enabled iOS or Android smartphones) or via Geberit Service Handy (IR interface)
HANDS-FREE MODELS, AC POWER (HARD-WIRED) 12V, GEBERIT CONNECT BLUETOOTH® ENABLED
HANDS-FREE MODELS, DC POWER (BATTERY) 3V, GEBERIT CONNECT BLUETOOTH® ENABLED