MAXIMIZE SPACE
Geberit In-Wall Systems Maximize Space for Global Hotel Chain citizenM hotel - Seattle, Washington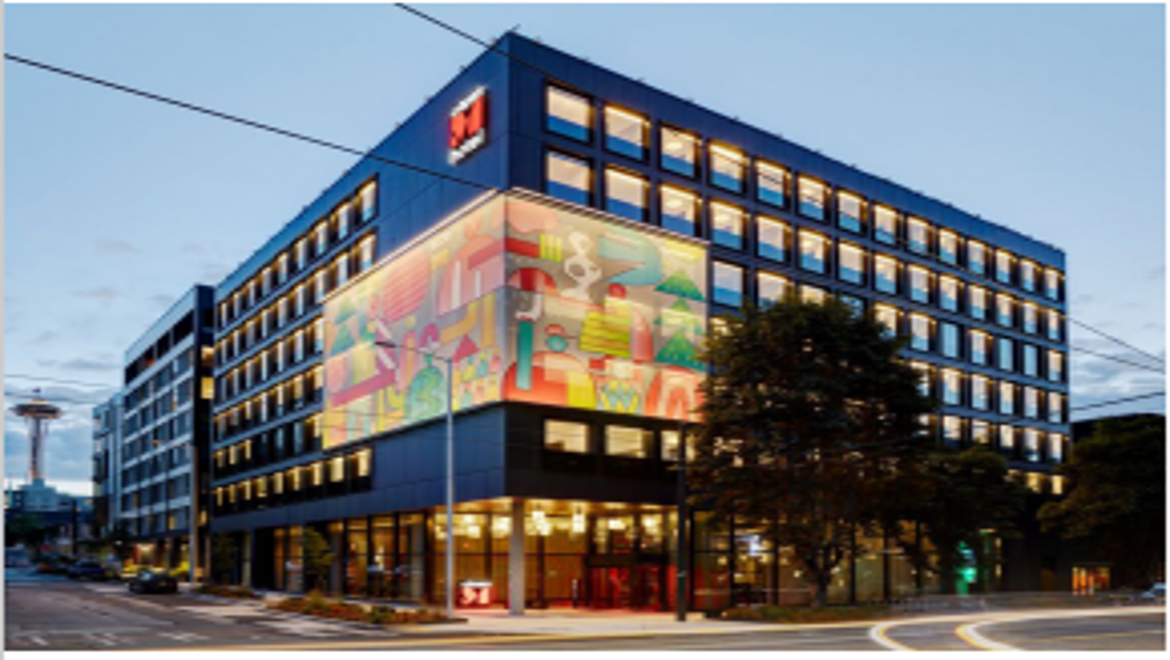 Before heading off on a get-away, many people will catch a YouTube or buy a book written by travel expert Rick Steves to learn how to get around, what to see, and, many times, where to stay. For tourists to maximize their experience, his most often advice is to travel light.
With that kind of guest in mind, the international Danish hotel chain citizenM serves travelers who want to spend their time out and about and not in their rooms. Yet, citizenM provides small yet sufficient space for a well-rested night, so the guest is ready to hit the streets in the morning. But sparse does not have to be spartan, especially in their bathrooms and lobby lavatories. Geberit in-wall carrier systems contribute to the property's mission to provide a stylish place to stay for budget-oriented travelers, contribute to citizenM's sustainability mission, and enable access for everyone. In line with their space-saver rooms, the citizenM Seattle property operates with the right-sized staff to provide the services guests need, such as bar and restaurant servers. As for checking in and checking out, the lobby has a self-service kiosk that will provide a room key and take payment for the stay.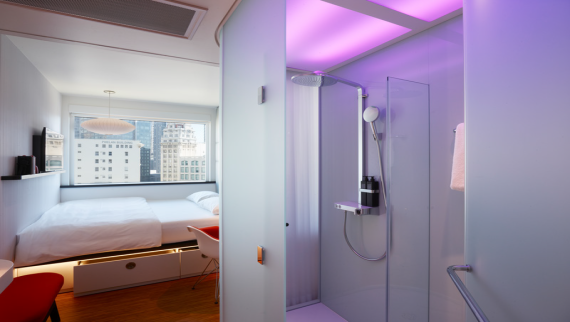 The first West Coast citizenM property is in Seattle's artsy South Lake Union neighborhood and is among the Danish-based chain's initial entries into the United States. The new building blends in well with the neighborhood, is flexible in size and shape, and largely mirrors its surrounding buildings in the area with its many art galleries. The hotel's exterior is an art exhibit, by Seattle-based artist Jesse LeDoux. A bright, large-scale art piece wraps around the two street-facing facades of the building. To maximize the concept for their hotels designed by the Seattle office of the global architectural firm Gensler, citizenM chose Geberit in-wall toilet tank systems, enabling citizenM to obsess over every inch. Geberit in-wall flush toilet systems for wall-hung toilets are the classics for modern bathroom design. citizenM has specified the Geberit systems into their bathroom walls worldwide as a basis of their bathroom design. This approach translates into more usable space in the guestroom.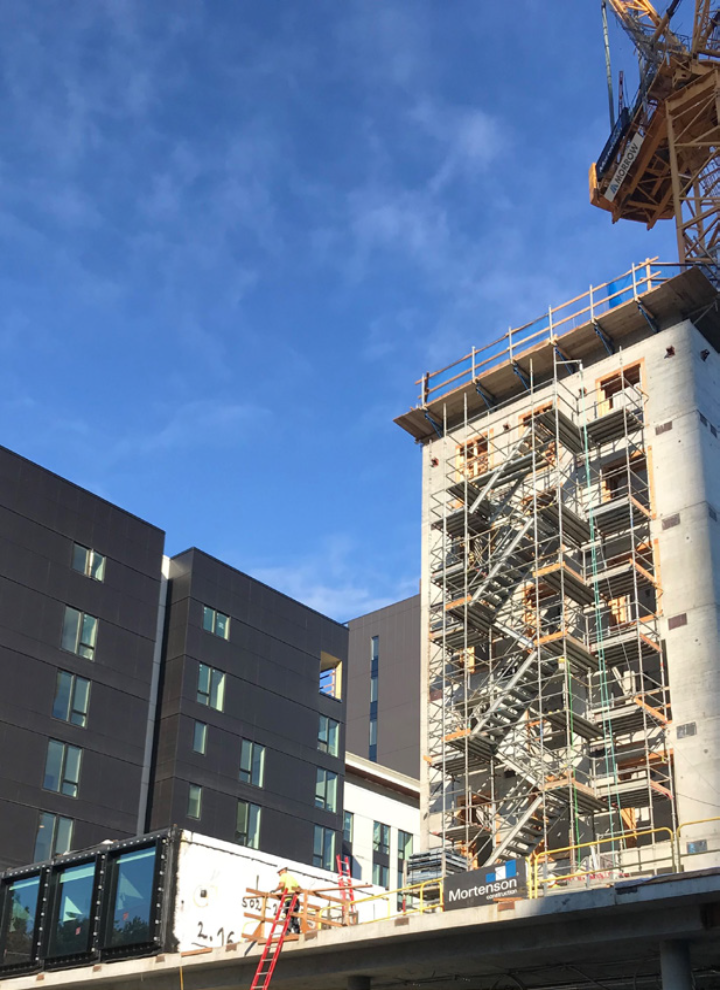 Hotel's Modular Construction Saves on Resources
This citizenM is Seattle's first modular hotel and serves as a model for sustainable hotel design. The building's 228 modules comprise the guestrooms. Below its gridded facade is a steel cage body that provides space for a spacious lobby, a bar/dining lounge, meeting rooms, and all the other amenities guests expect.
Everything above the ground floor was built as units via citizenM's long-time fabrication partner, Polcom, in Poland, then shipped to Seattle. While the relatively long transportation route takes a toll from an environmental perspective, the design team says it doesn't outweigh the environmental benefits of building in a factory. The hotel is more assembled than built. On an average day, the Seattle construction team stacked seven to eight modules at the site. The rooms were set in just 89 days, allowing for a schedule reduction of four months. In addition to shortening the construction timeline, the factory-assembled modules reduce construction costs and waste. They are a higher quality product not subject to risk factors like weather-related delays and labor and material shortages. The contractor determined that 85% of construction debris was recovered, reused, or recycled.
On top of those environmental benefits, the building also boasts solar panels on its roof and a heat pump, a measure rarely used for hotels. The result is a LEED Gold certification and a structure that uses 29% less energy than otherwise.
The Geberit wall-mount contributes to the sustainability mission by saving water. In addition, every Geberit concealed system comes with a dual-flush capability. Pairing the system with a Geberit Sigma20 dual-flush actuator. The standard volume is 1.6 or 1.28 gallons for solids and 0.8 gallons or liquids, saving each room thousands of gallons of water per year, exceeding high-efficient toilet standards.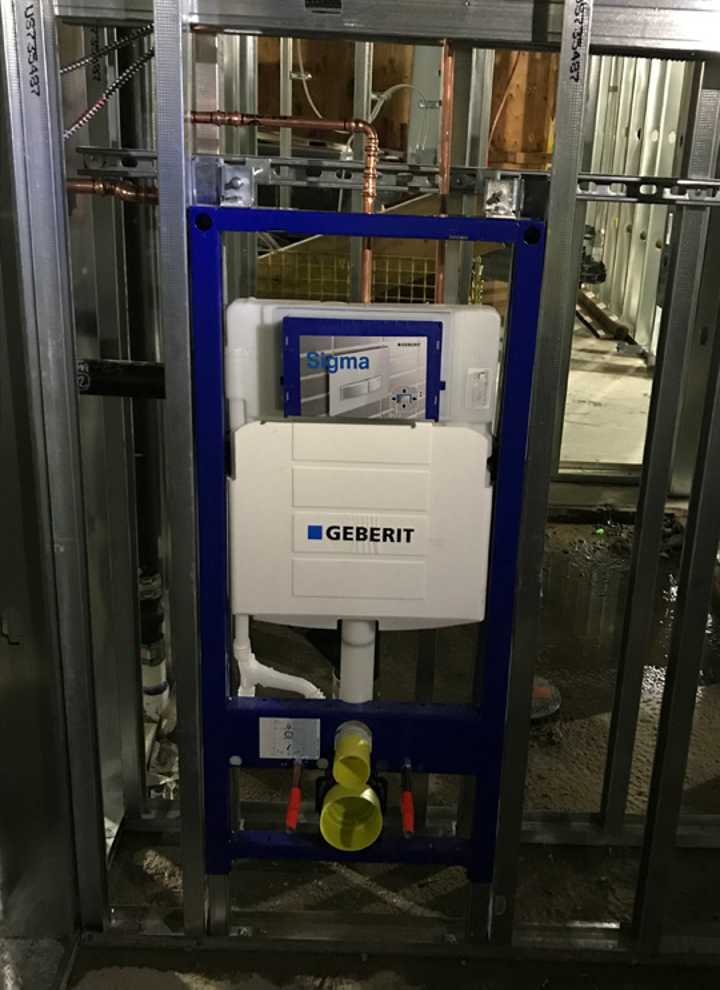 IN-WALL SYSTEM IDEAL FOR CLEANING AND MAINTENANCE OF HOTEL
The in-wall toilet design enables their compact stay on top of keeping room bathrooms sanitary. In addition, because the toilet is off the floor, mopping up the bathrooms in their scores of guest rooms and the lobby, lavatories are much more efficient.
Unlike floor-mounted tank toilets, valves in the Geberit in-wall system eliminate problematic chains and flappers that corrode and fail. The maintenance department can easily access working parts through the stylish flush and cover plates if needed.
"I can say that we have not had any mechanical problems with the flushing system of the bathroom receptacles in either standard or ADA rooms," according to Christian Logay – citizenM Area Maintenance Manager for the West Coast. "The water storage tank does not show any signs of leakage or corrosion from any of the parts of the system. Flushing is easy, and having the two different levels of flushing (Eco and standard) does help us save water. Installation of the bowl is easy, and all the water connections are equally simple. So far, we have not had any mechanical issues with this system."
This is not surprising considering the Geberit Sigma concealed tanks are made from high-density plastic and guaranteed for life against leaks, and insulated to prevent condensation.

Convenience and Accessibility for All
Everyone who checks into the citizenM South Lake Union location will find that the facility meets their needs, including those coming through the door in wheelchairs. Whether the toilet compartment is intended for ambulatory or wheelchair occupants, the Geberit in-wall tank and carrier system combined with a wall-hung toilet bowl makes the bathroom/lavatory safer and more accessible.
Architects are sometimes challenged with meeting ADA compliance for flush actuator plates location with a wall-hung toilet, so Geberit remote button solutions provide assurance to pass inspection. "One of the challenges in positioning the flush plates for ADA compliance is when they are positioned beneath the grab bar; the plate has to be a certain thickness," according to Geberit National Builder Sales Manager Edward Aguilar. "So Geberit developed a surface-even panel. We provide a surface even panel for the wall and use the offset button for the reach, which checks every box for ADA compliance."
Geberit Type10 remote buttons were the answer. They have been tested for years of stress and require less than five pounds of force to actuate the flush. Air pressure transmits the force from the flush control to the flush valve. The streamlined design has no protruding edges, enhancing the feeling of spaciousness and safety in these compact bathrooms.
At citizenM, where inches count to provide affordable yet high-end lodging, the Geberit in-wall carrier system enables the hotel to deliver on this mission while making the stay a high point of their guest's visit – no matter who they are.